Best Mac 'n Cheese
This recipe appeared in The World's Best? Says Who! on 29 Sep 2008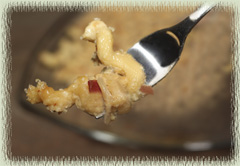 5-6 tablespoons butter, divided
2 medium to large sweet onions, thinly sliced
1 teaspoon sugar
1/4 teaspoon salt
1 tablespoon garlic powder
1 pound uncooked macaroni or other noodles
1 teaspoon dried mustard
4 cloves fresh garlic, minced
1/4 cup dried, minced onion
1/4 teaspoon cayenne or other pepper
6 tablespoons all-purpose flour
3-1/2 cups milk
1 can (14-3/4 ounces) low–sodium chicken broth
8 ounces grated sharp white cheddar cheese
8 ounces grated fontina cheese
1/2 cup grated parmesan cheese
1/2 to 1 cup Japanese bread crumbs (panko)
1/4 cup french fried onions
6 slices smoked bacon, cooked crisp and chopped

Preheat oven to 400° F. Butter a 9×13–inch baking dish.
Melt 2 tablespoons of the butter in a large pan over medium heat. Add onions, sugar, salt and garlic powder. Cook, stirring often until onions caramelize, about 10–15 minutes. If mixture is too dry, add an additional tablespoon of butter. Set aside.
Bring a large pot of lightly salted water to a boil. Add macaroni and cook until al dente, 5 to 6 minutes. Drain, cover and set aside.
Melt the remaining 3 tablespoons butter in a large pot over medium heat. Mix the dry mustard into the butter along with the minced garlic, dried onion and cayenne pepper. Stir until fragrant, about 30 seconds. Sprinkle in the flour and cook until golden, about 1 minute. Slowly whisk in the milk and broth. Bring to a simmer stirring constantly until the mixture is slightly thickened, about 5 minutes.
Remove the pan from the heat and stir in the cheddar, fontina and parmesan cheeses until melted. Stir in the caramelized onions. Add the drained macaroni and stir until blended. Pour into the prepared baking dish and top with panko.
Bake until golden brown and bubbling around the edges, 25 to 30 minutes. A couple of minutes before you remove the dish from the oven, sprinkle the french fried onions and the chopped bacon over the top of the panko and continue baking (be sure to watch carefully so the toppings don't burn). Let cool for 5–10 minutes before serving (if you can wait that long!).
WI wine recommendation: An oaky Chardonnay or medium-bodied Chianti goes well with this cheese-based dish.