Los Angeles Crocked Beans
This recipe appeared in The Other Beantown on 14 Jul 2008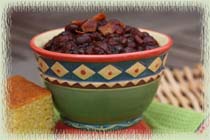 1 pound dried pinto or navy beans (or combination)
12 ounces bacon
1/4 cup apple cider vinegar
1 large onion, finely diced
1 medium jalapeno pepper, finely diced
1/4 cup olive oil
3 tablespoons molasses
1/2 cup brown sugar
1 cup ketchup
1 teaspoon dry mustard
1 teaspoon salt
1-1/2 teaspoons ground black pepper
1-1/2 tablespoons minced garlic or 1 teaspoon garlic powder
1 teaspoon liquid smoke
1/2 teaspoon arbol or other hot sauce
1 bottle of beer (optional, but highly recommended by the WI)

Place dried beans in a large bowl and add enough water to cover by 2-3 inches (about 8 cups). Let the beans soak overnight (about 7-8 hours).
Drain and rinse the beans. Simmer beans in 8 cups of water and 1/4 cup of apple cider vinegar until tender, about 1 to 2 hours. Drain and set aside, reserving 2 cups of the cooking liquid. Meanwhile, fry up all of the bacon until crisp and reserve about 2/3 of the rendered fat. Crumble the bacon and reserve 1-2 tablespoons for garnish later when the beans are served.
Turn your crock pot on to high. Add the beans and all other remaining ingredients (including the crumbled bacon and reserved bacon fat). If the mixture appears too thick, add some of the reserved cooking liquid and as much of the beer as you want. Or you could just drink the beer while the beans are cooking and use only the cooking liquid for thinning. Whatever you choose to do, be sure to save some liquid for later as the beans will most likely need thinning towards the end of the cooking time.
Cook for 6-7 hours (on high the entire time). The beans should be tender, not mushy. Test them frequently towards the end of the cooking time to avoid over-cooking them. Be sure to stir the beans well a few times as they cook and scrape up anything that sticks to the bottom of the crock pot. Serve the beans with the reserved crumbled bacon sprinkled on top.