Lemon-Infused Olive Oil Cake
This recipe appeared in Olive Oil Hangover on 01 Jul 2008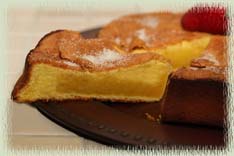 1 large lemon, zested and juiced
3/4 cup olive oil (regular or extra virgin)
1 cup cake flour (not self-rising)
5 large egg yolks
4 large egg whites
3/4 cup plus 2 tablespoons granulated sugar
1/2 teaspoon salt
2 tablespoons Grand Marnier liquor

Preheat the oven to 350° F. Adjust the rack to middle position. Grease a 9 inch springform cake pan with olive oil, line the base with parchment paper and grease it with oil.
Whisk the lemon zest together with flour. In another bowl, beat the yolks and 1/2 cup of sugar with an electric mixer (at high speed) until the mixture is pale and thick (about 2-3 minutes). Reduce speed to medium and gradually pour in all of the olive oil, lemon juice, and Grand Marnier. Don't be alarmed if mixture appears curdled at this stage. Lightly fold in the flour mixture until just combined.
Wash the beaters thoroughly. Put the egg whites and salt into a clean bowl. Beat on medium-high speed until foamy. Gradually add 1/4 cup sugar and continue beating until the egg whites hold soft peaks. Carefully fold about a third of the whipped whites into the yolk mixture, then add the remainder of the whites and continue folding until just combined.
Pour the batter into the springform pan and gently tap the pan on the counter to release any air bubbles. Sprinkle the 2 tablespoons of sugar evenly over the top of the batter. Bake for about 30-35 minutes (or until a skewer comes out clean). If top starts turning brown too quickly, cover with foil. The top should be golden brown and will probably be crackly-looking when finished.
Cool the cake in the pan on a rack for 10 minutes, then remove outer rim of the pan to allow the cake to cool completely to room temperature. Remove the pan base and carefully peel away the parchment paper.
WI wine recommendation: Prosecco or Champagne pairs well with this recipe.