We Heart Meyer Lemons!
One of the best features of the house we live in isn't found in the structure itself, but is growing out on the side yard. We bought the house just before we got married, and still live in it to this day. Back then, we couldn't understand why the realtor was making such a fuss about something as simple as a lemon tree growing on the property. But now, we share her passion for the lure of the Meyer lemon.
Meyer lemons aren't just any lemons. They're a cross between a lemon and a mandarin orange, which gives them a less acidic, sweeter flavor and a thinner peel. I always know it's officially springtime when the intensely fragrant blooms on the tree are wafting in the air. Once you've had a Meyer lemon, it's hard to settle for Eurekas or other grocery store varieties. And if you're like me, you stockpile lemon recipes and find yourself looking for ways to incorporate them into your everyday cooking.
We still have many a fruit clinging to the tree, but lately they've been dropping off more quickly than I can use them. I hate for them to go to waste, so I've been consulting The Lemon List from the Los Angeles Times for inspiration and poring over my lemon recipe file looking for new recipes to try. I came across a cake recipe that was adapted from one that was originally published in Gourmet magazine in 1945. Given my affinity for cupcakes, I decided to follow the muffin directions in the Cook's Note's following the recipe.
I've always loved recipes that use cake flour instead of all purpose flour. It's hard for me to resist the finer, tender crumb that it produces. It makes cupcakes all the more enjoyable to me. This recipe satisfied my lemon flavor requirements, but turned out a bit on the dry side. After researching the best and easiest way to correct this without ruining the recipe (and apparently there is quite a science to achieving perfectly moist cakes), I concluded that half of the butter should be replaced with vegetable oil. Oil coats the proteins in the flour better than other fats (like butter). Why should I care about this? Coating the proteins prevents the liquids from binding with the flour to form gluten, which dries out the cake and toughens the texture. So say the food scientists, anyway. I'm going to give it a try the next time I use this particular recipe.
One other thing—the frosting recipe isn't a sugar frosting. It's more like lemon-flavored whipped cream. It's nice and light, but won't hold a shape for long if you try to pipe it on. I tried doing simple upward swirls and by the time I got to the last cupcake, my earlier swirls had morphed into something you'd find in a joke shop next to the fake puke puddles. I had no choice but to scrape them all back up into simple domes. Luckily, I had some of the recommended candied violets and matching glitter on hand to gussy them up a bit.
WI wine recommendation: Champagne pairs the best with this recipe.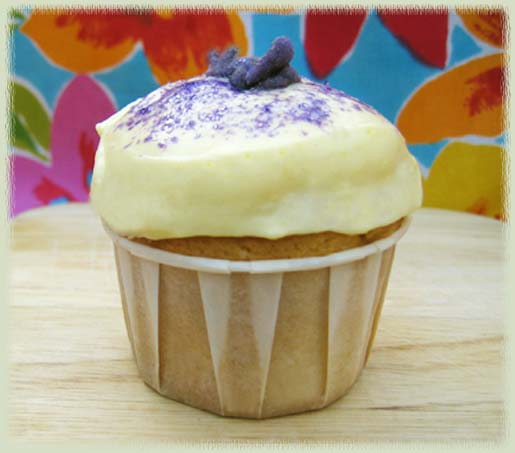 Lemon Layer Cake with Lemon Cream Frosting
(From Gourmet.com)
Comments (3)
November 21, 2008 at 8:34 pm
food librarian
said:
I would have bought your house for the meyer lemon tree!

My parents have a Meyer tree and I LOVE it. My dad said they are really coming up now so I'm looking forward to making lots of lemon recipes. Thank you for sharing this one! Your cupcake is adorable!!!

November 25, 2008 at 8:23 pm
ingrid
said:
Your cupcake looks beautiful. I think the lack of swirl worked well.
I've never tried a meyer lemon. I'm not sure what I'm waiting for other than I haven't seen them at the grocery before. can't wait until I do!
Thanks for providing the links and tip so that we can give this a try ourselves!
Happy Thanksgiving!
~ingrid

November 26, 2008 at 12:06 pm
Leah
said:
Hey Ingrid! Meyer lemons are a seasonal item, usually making their appearance around this time of year. Strangely enough, my tree is running late this year. The lemons don't look like they'll be ripe for another month or so. I actually had to buy some for a cranberry relish I'm making for Thanksgiving this year. If you have a Trader Joe's near you, check them out. My TJ's usually stocks them now and early in summer. They're more expensive than regular lemons, but well worth it (especially if you need lemon zest for your recipes). Nothing beats them!