If you're lucky enough to live somewhere that has a Trader Joe's nearby, you'll know immediately why I used the word "lucky" to describe the situation. If you aren't familiar with TJ's (as it is fondly referred to by us foodies), then allow me to enlighten you. Trader Joe's is a grocery store. As they describe themselves on their website, the one thing that sets TJ's apart from all other grocers is their products. They refer to their buyers as "culinary ambassadors who travel the world—from exotic locales to local farms and dairies—looking for interesting, great-tasting foods and beverages at terrific everyday values." I can't argue with that.
What really impresses me about TJ's is the vast product line they have produced under their own label. Some of this stuff is so unique and tasty that you can create a gourmet meal with only 3-4 ingredients. The TJ's we frequent used to have a guy who worked in the sample booth who would create elaborate recipes using products you could only find at their store. It was amazing what he could cook up in his little broiler oven. He became a legend and quickly moved out of the sample booth and up the corporate ladder. I still hear other employees refer to him amongst themselves.
Another thing I like about TJ's is that they are always adding new items to their product line, making it easier for people like me to get more creative in the kitchen. I've come up with some great recipes that are perfect for those days when life won't allow you the time to shop for a 20 ingredient meal, much less the time to cook it. Heck, you could even get the kids to make these recipes they're so easy. I know. Mine have already successfully tried their hands at most of them.
So once a month or so, I'm going to dedicate a Tuesday to my pal Trader Joe (whoever he may be). And if you don't have a TJ's near you, don't despair. They're growing by "leaps and bounds", so check their website for existing and upcoming store locations.
To kick off Trader Joe's Tuesday, let me present one of my most popular concoctions. There are a couple of variations that can be applied to this recipe; all of the ingredients available at TJ's (of course!). The recipe is based on jalapeno poppers, which typically involves stuffing jalapeno peppers with cream cheese or other cheeses and deep frying. Some recipes call for breading the peppers before frying to create a sort of chile relleno. My version doesn't require breading or frying and is quick and easy to make.
WI wine recommendation: We enjoyed this with a glass of Domaine Bott-Geyl 2004 Gewürztraminer Beblenheim from Alsace, France, which is not really sweet and pairs well with spicy foods.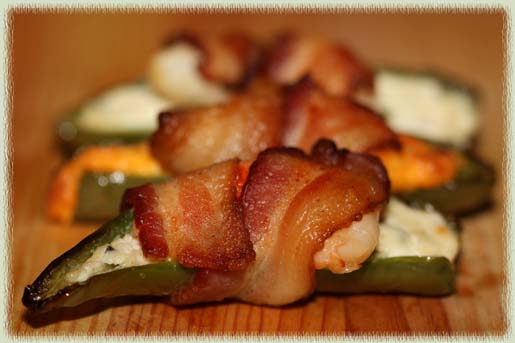 Bacon-Wrapped Shrimp Poppers

Fresh jalapeno peppers, medium to large size (you'll be cutting each pepper in half, so get enough peppers to make 4 or more halves per person)
Cream cheese (room temperature or softened in microwave)
Bacon (regular sliced, not thick)
Frozen, raw shrimp (defrosted)

Preheat oven to 375° F.
Cut each jalapeno in half (lengthwise) & cut off stem. Remove the seeds and white membranes (which are loaded with capsaicin which can taste too hot) with a small spoon or paring knife. I find that a serrated grapefruit spoon gets the job done best. Whatever method you use, be careful not to get any of the pepper juice in your eyes or nostrils. Even if you get the juice on your fingers and wash it off with soap, don't rub your eyes or pick your nose (not that you would)—it still has the potential to cause a burning sensation hours later! Some extra-sensitive people wear plastic gloves to avoid this situation.
Fill the pepper halves with cream cheese, leveling it off with the edges of the jalapeno. This is one ingredient with which you can get creative. You can mix in any kind of shredded cheese with the cream cheese and/or any spice that you like (garlic, cumin, etc.). TJ's also sells something called Pub Cheese that comes in 8 oz containers that makes it even easier to add another layer of flavor to these poppers. We like the sharp cheddar flavored one. They also sell cheddar with jalapeno peppers mixed in, but we haven't tried that one yet. Just be sure to keep whatever cheese you're using level with the edges of the pepper, or you'll end up with a bubbled-over mess after they've cooked.
Remove the shells from the shrimp & slice each shrimp in half. These shrimp peel easily as they come already deveined. Just continue slicing through the deveined area to create two pieces.
Place one shrimp-half on top of each cheese-filled pepper half. You can omit this ingredient if you have a seafood-hater in your crowd like we do. I usually offer both plain and shrimp-filled when I make these for parties.
Cut the bacon slices into halves or thirds, depending on how large your peppers are or if using shrimp. The bacon needs to be long enough to wrap around the entire length of the pepper. You can use a toothpick to secure the bacon if you're worried about it shriveling up and falling off, but I haven't had much trouble with this in the past and find it unnecessary. If you wrap it snugly (starting at the underside of the top of the pepper) in a diagonal fashion with no overlap, the bacon should cover the pepper & shrimp pretty well. A half slice of bacon works perfectly for the larger peppers.
This is the point where the assembly of my recipe ends, but here is another option that sounds good if you're into crispy poppers. You can try dipping the cheese-filled (baconless) peppers into egg white and then coating with bread crumbs. I have a particular fondness for the texture of panko and almost always use it in recipes that call for breadcrumbs. Wrap the bacon onto the peppers after they've been dipped and coated and proceed to the next step.
Bake the poppers on a rack that fits into a rimmed cooking sheet. They should take anywhere from 15-25 minutes to cook, depending on how hot your oven cooks. Check them frequently to avoid burning the bacon. If the bacon isn't crispy or brown enough (even though the rest of the poppers are cooked through), broil them for a couple of minutes until desired bacon doneness. If using the shrimp, they will turn pink when they are cooked through. I've heard of people cooking these on outdoor grills, which makes them a good appetizer choice when you need to bring a food item to a BBQ.
These taste best when served hot from the oven, but are still addictive at room temperature (you can eat more of them faster when they're not so hot!). Some people like to serve poppers with a dipping sauce (I think that would be gilding the lily in this case), but go ahead and see if you don't consider these totally delicious all by their lonesome.