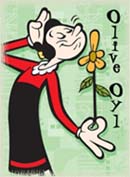 No, we're not the parents of Popeye's girlfriend. The 6th annual Los Angeles International Extra Virgin Olive Oil Competition took place last month. Can you imagine—so many virgins in Los Angeles? We certainly aren't used to that! This competition is the companion to the Los Angeles International Wine & Spirits Competition that just celebrated its 69th year. Yes, oil and wine do mix.
We couldn't wait for the competition. Several months ago, Leah surprised me for the holidays with the big announcement. We adopted an olive tree, and not just any olive tree. This one lives at the Nudo Estate in the Le Marche (pronounced 'mar-kay') region on the eastern coast of central Italy, nestled between the Adriatic Sea and the Monti Sibillini range of the Apennine mountains. A march or mark in the middle ages meant a border province of the Holy Roman Empire.
Nudo is Italian for—you guessed it—"naked", but this time the reference is to food that is natural (nothing artificial added).
Nudo is a family-run co-operative that organically farms the olive groves dotted around a small hilltop village called Loro Piceno, about 400 meters above sea level. The 20-page Nudo tree information booklet proclaims this "the perfect environment for growing olive trees". The booklet explains in great detail the annual olive cycle, from pruning to harvest and the pressing process for extra virgin olive oil—cold pressing, under 0.8% acidity and no refining (refining is a chemical treatment necessary to remove excess acid from lower quality oils). The pressing is typically done within 24 hours (before acid levels rise) and at no higher than body temperature (to preserve flavor).
Our particular tree is number AR-13 in the Ardelio grove and is 66 years old. Olives come in many varieties. Most everyone has heard of the Kalamata from Greece, the Sevellano and Manzanillo from California and the Leccino, Frantoio and Moraiolo varieties of central Italy, but many local varieties are lesser known because of their smaller production volume. Our gem is the Piantone di Mogliano variety, local to Le Marche. Don't I sound like the proud papa?
Nudo promises two shipments in addition to the information booklet and adoption certificate. The Spring shipment includes at least 1.5 liters of extra virgin olive oil (EVOO). The Autumn shipment has a tin of lemon infused EVOO and a selection of handmade olive oil soaps—one each of lemon, mint & rosemary and lavender.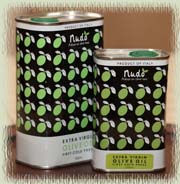 I said oil and wine do mix—at least figuratively. I can't think of much better than a glass of wine and a plate of rich, golden green olive oil and, of course, some crusty country bread (and maybe some parmesan or pecorino cheese, a hunk of salami and some walnuts). So, I eagerly awaited the first taste from my beloved tree. I didn't even have to wait for Father's Day to arrive. Not long ago, I received 4 tins (3 large and one smaller) containing 1.75 liters of liquid sunshine! I have to admit, it is some of the best olive oil I have ever tasted—fresh and luscious, velvety smooth, with wonderful coloring and a bit of spice lingering on the tongue. Just like wine, fruit variety, climate and soil all have a huge impact on olive oil taste and quality. Unlike wine, blending and ageing have no place. As the booklet states, "the oil that runs off the press is the finished product. No oak casks or years of waiting." Ah, just as it should be! Old wine and young olive oil—the perfect May-December romance.
(Olive Oyl courtesy of Betty Boop-a-Doop; map & tree picture courtesy of Nudo.)