Wine bars afford the adventurous a great way to sample, compare and contrast wines without having to open multiple bottles on the same evening. Yet, most wine bars come and go faster than you can say Gewürztraminer, while a few meet the test of time. Why is that? The ones that endure and thrive offer an inviting atmosphere, a great wine selection, consistently good value, interesting appetizers, knowledgeable staff and a decent location. CasaVino Wine Bar in Long Beach, California, offers all of this and more.
We were on hand when CasaVino opened its doors about three to four years ago. With a unique "Wine is Art" concept developed by proprietor Mary Kittrelle, CasaVino offered an experience to indulge all your senses. In a uniquely designed, roomy but intimate space, CasaVino blended a variety of elements—a thoughtful, changing collection of wines (and beers) from around the world, a range of tantalizing appetizers, entrées and desserts, an evolving art exhibit on the walls (which changes about four times a year to keep the scenery as fresh as the wine & food menus) and music (predominantly jazz groups)—in a very tasteful manner that doesn't overwhelm your visual, auditory or gastronomical palates. A complex structure, but well-balanced.
Nothing (well almost nothing) stays the same over time. So, what's changed about CasaVino over the past three to four years? Influenced by her customers, but remaining true to her concept, Mary has made some modest but significant adjustments. The biggest change is the expansion of the food offerings. As Mary reported, "People liked what we served them as appetizers, and they wanted full-size dinner servings as an alternative for the nights they wanted to eat dinner here. While they can still graze on a growing list of appetizers, they can also make an entire meal of their favorites."
On a recent Sunday evening, we opted for a trio of appetizers—the Rustica Pizza (the three-cheese pizza of mozzarella, smoked gouda & parmesan, which is available by itself, but as a Rustica was topped with artichoke hearts, olives stuffed with sun-dried tomatoes, serrano ham and a zesty red sauce), the Toasted Formaggio (baked brie drizzled with honey and almonds) and the Avocado & Serrano Ham Crostini (with walnut parmesan goat cheese). All were excellent. As for the wines, Leah started with the Mandolina 2007 Malvasia Bianca from Santa Barbara County and enjoyed the Guy Allion 2004 Chardonnay from Loire Valley, France even more. My favorite was the Donati 2003 Cabernet Sauvignon Paicines, San Benito County, California, and I also enjoyed the Chateau Les Quatre Filles 2005 Côtes du Rhône from Sainte Cécile Les Vignes (Vaucluse), France.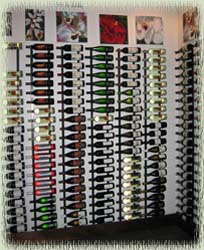 Both the wine and food lists are extensive. You can order wine by the glass or in various flights or by the bottle. You can also purchase bottles of your favorites from the "wine wall" to take home as we did. Notably, CasaVino was voted "Best Wine Bar" in L.A. in MyFoxLA's Hot List 2007 internet survey and "Best Wine Bar" and "Best Appetizers" in the 2007 Long Beach Magazine readers poll. Located at 51 S. Pine Avenue in the historic Ocean Center Building in downtown Long Beach (kitty-corner to the Long Beach Convention Center), CasaVino has an extensive website where you can check out their hours, menus, events calendar, photos and much more.
(Top photo courtesy of CasaVino.)