Caribbean Crab Cakes Benedict
This recipe appeared in Mother's Day Madness on 12 May 2008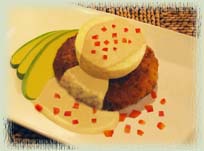 Crab cakes:
3 saltine crackers
3 (1-ounce) slices French bread, torn
1 pound fresh lump crabmeat, drained
1 cup mayonnaise
1 egg white
2 tablespoons fresh lemon juice
1/2 teaspoon ground ginger
1/4 teaspoon ground red pepper
1/4 teaspoon seafood seasoning
1/4 cup peanut oil
2 tablespoons unsalted butter
Sauce & garnish:
2 avocados, peeled and sliced
6 large eggs, poached
Easy-Peasy Hollandaise Sauce* (or use your own Hollandaise sauce)
Finely-diced red bell pepper

Place crackers in a blender or food processor; process until finely ground. Place bread in blender or food processor; process until finely ground.
Combine crabmeat, mayonnaise, cracker crumbs, breadcrumbs, egg white, and next 4 ingredients in a large bowl. Cover and chill 8 hours.
Shape crab mixture into 6 (4-inch) patties. Cook crab cakes, in batches, in hot oil and melted butter in a large skillet over medium-high heat 4 minutes on each side or until golden.
Place avocado slices and poached eggs on crab cakes, and top with Hollandaise Sauce* and diced red bell pepper.
Makes 6 servings.
*You only need two ingredients for this sauce: Real mayonnaise and Bobby Flay's Yellow Pepper Sauce. You could substitute any flavor bottled sauce. It all depends on what flavor you're trying to emphasize with your crab cakes. Since the crab cakes called for diced red bell pepper (and I happen to have a variety of opened bottles of flavored sauces in the fridge), I thought the yellow pepper sauce would work well (and it did). Just mix in enough of your chosen sauce so that the mayonnaise takes on the flavor of the sauce and no longer tastes too much like mayonnaise. No need to heat it up (but you could, if you want). After all, mayonnaise contains ingredients similar to the Hollandaise and the best part is, you don't have to cook it and run the risk of ruining it.
WI wine recommendation: Champagne, of course! We enjoyed this on Mother's Day and Mom likes Champagne on special occasions. Any full-bodied white would also be nice.