Tuscan Style Pita Pizzas
This recipe appeared in On the Food Trail in Santa Barbara on 22 Apr 2008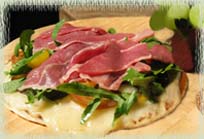 12 pitas (preferably thick, home-made style)
2/3 pound prosciutto, thinly sliced and cut into pieces
24 slices provolone or other mild white cheese
6-8 Rosso Bruno or heirloom tomatoes, thinly sliced
5 oz wild arugula or other small salad greens
Italian vinaigrette

Cut the tomatoes into thin slices, about 1/8″-3/16″ thick. Lightly dress the greens with the vinaigrette and toss them to coat evenly. Set both aside.
Grill the pitas on both sides. This can be done in a pan on a cook top (over medium-high heat) or in a panini press. If using the pan method, brush both sides with olive oil to ensure even browning. The oil isn't necessary for the panini press as it will brown both sides nicely without oil.
After one side of the pita is grilled (if using a pan), flip it over and layer 2 slices of cheese on the already grilled side and continue cooking over medium-high heat until the cheese melts. If using a panini press, once the pita is grilled, leave it on the press (lift the lid up) and layer the cheese on top of the pita. Carefully lower the lid so it hovers about 1 inch above the pita. If you hear a sizzling noise, it means that the lid is too close and making contact with the cheese, which you don't want. The cheese will melt quickly enough so don't worry about your arm getting tired holding the position.
After the cheese has melted (for either method), remove the pita to a cutting board. Put an even, single layer of tomatoes on top of the melted cheese followed by a mound of the dressed greens. Cut the pita into halves or quarters, whatever serving size strikes your fancy. Place the prosciutto pieces on top of the greens. I use a pizza cutter to cut the pieces and find that it is easiest to put the prosciutto on after cutting the pita as the prosciutto just gets tangled up in the blade without cutting through. For best results, serve immediately while the pita is still hot and crispy and the cheese is melted and gooey. The cool, crispness of the tomatoes and greens contrasts nicely with the warm parts of this pizza. Yummm!
WI wine recommendation: We enjoyed this with a glass of Cremant D'Alsace Rose, Dom. Allimant-Laugner N.V., which has a light rose color and a crisp, zesty flavor that makes a perfect brunch champagne.