Creating and implementing a blog is a lot of work. We had no idea of the amount of time we would be spending getting this baby afloat. So it wasn't a surprise to either of us when we found ourselves sitting in front of our computers on our anniversary instead of at a nice table in one of Los Angeles' many fine restaurants.
It was our own fault, really. We thought it only appropriate that the inaugural posting of the Wine Imbiber should fall on our 24th anniversary, given our history. But, we only came up with the idea a week ahead of the self-imposed deadline, with many items still in need of attention. Neither of us had bothered to put "make dinner reservations" on the top of the punch list.
What does a stressed-out couple do to celebrate their dual special occasion when they find themselves without extravagant dinner reservations in a city like LA? Why, they head to the beach, of course! So, when the last correction to the web site was made and reality finally settled into our stomachs, we high-tailed it to the coast. We arrived just in time to enjoy sunset views of the Santa Monica Pier (while sipping wine and nibbling on half-priced happy hour appetizers) from one of the beach's nicest hotel bars. The best part of it was, no pre-planning required!
So there we sat at the bar; drinking in the view and the wine and contentedly sampling various items off of the happy hour menu. Hubby proudly viewed our new creation on his BlackBerry while I watched a Lakers game on the flat screen TV. Such a romantic couple we are! It's amusing that we did both notice one thing—sliders have become a featured item on many appetizer menus. Maybe you're familiar with the commercials on TV promoting them. It seems that every restaurant has its own version.
For those of you who don't know; sliders are just mini-burgers, about the size of stuffed dinner rolls. They come in many varieties, like Food & Wine's Lobster Sliders and Epicurious' Meatball Sliders. For some reason, I prefer mini-versions of just about any food item (calling Dr. Freud! What does this mean?). Example: I find cupcakes irresistible compared to their larger cousin, the cake. There must be a precious-factor involved here somehow.
To commemorate the successful launching of WI and our 24th anniversary celebration, I found a wonderfully inventive and award-winning recipe for burgers that I could downsize to the slider concept. Food Network's Ultimate Recipe Showdown "Burgers" challenge provides the recipe (by personal chef Julie Anne Rhodes of Los Angeles). This recipe translates deliciously-well into sliders, as it is Asian-inspired and upholds the "small bites" approach that has become so trendy in many restaurants these days. Everyone in our home loved them, though they were a bit confused as to why I just didn't make full-sized burgers—I'm still hungry! Are there any more? Why are they so small? You get the picture. I guess they've already grown out of the mini-food infatuation stage that I'm still happily dwelling in!
WI wine recommendation: any light- or medium-bodied white. We recently tried this recipe with Teruzzi & Puthod's 2005 Vernaccia di San Gimignano, a delicate but flavorful (and relatively inexpensive) white wine produced produced in the area around San Gimignano in Tuscany, Italy.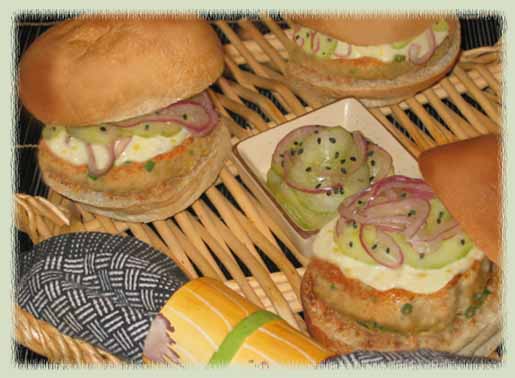 Jewels Turkey-Jasmine Burgers
(from Food Network)

Cucumber Salad:
1 cucumber, peeled and thinly sliced round
1/2 red onion, thinly sliced
1/4 cup rice vinegar
1/8 cup sugar
1 teaspoon salt
Burgers:
1 1/4 pounds ground turkey
1/3 cup steamed jasmine rice
1/4 cup panko
1/4 cup thinly sliced green onions
1 large egg
1/2 teaspoon sesame oil
1 tablespoon soy sauce
1 Thai chili or serrano chile, seeded and minced
1 teaspoon sugar
Salt and freshly ground black pepper
1 tablespoon peanut oil
4 sesame hamburger buns (for sliders, use 8-12 dinner rolls)
Wasabi Mayonnaise:
1/2 cup homemade mayonnaise or store-bought
1 teaspoon wasabi powder
1/2 teaspoon minced ginger
1 teaspoon finely chopped lemon peel

Cucumber salad: Toss cucumbers, onions, rice vinegar, sugar, and salt in a medium sized bowl. Let it marinate at room temperature for 1 hour. Note: I also added black sesame seeds.
Burgers: Mix ground turkey, rice, panko, green onions, egg, sesame oil, soy sauce, Thai chile, and sugar very well. Make into 4 patties (for sliders, make 4-12 patties—approximately 1/4 cup each). Season with salt and pepper.
Heat peanut oil in a large skillet over medium-high heat. Saute burgers until cooked through, approximately 5 to 6 minutes per side (depending on how thick you make them).
Wasabi mayonnaise: While burgers are cooking, toast buns, and mix mayonnaise, with wasabi powder, ginger, and lemon peel in a small bowl.
Drain cucumber salad well. Smear 1 tablespoon wasabi mayonnaise on toasted bun halves, spread with a layer of drained cucumber salad, then top with burger and cover with bun top.