Goat Cheese Italiano with Crostini
This recipe appeared in From Cheese to Nuts on 24 Mar 2008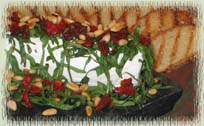 1 log of goat cheese (a longer log makes a better presentation)
1 cup fresh basil leaves, packed
Sun-dried roma tomatoes packed in oil (use as much of a small jar as you like)
2-4 tablespoons roasted pine nuts
1-2 cloves fresh minced garlic
Olive oil
1 baguette
1 large garlic clove

Substitutions: capers for the basil; toasted pumpkin seeds, roasted pistachio nuts or olive tapenade for the pine nuts; oil from the roma tomato jar, garlic infused oil or lemon infused oil for the plain olive oil; garlic can be omitted entirely; crackers for the crostini.
Put the goat cheese log on serving plate. Use a rimmed plate or larger platter as the toppings will spill down the sides and spread. Chiffonade the basil leaves and neatly mound across the top of the log. Chop up desired amount of sun-dried tomatoes and sprinkle over the basil. Sprinkle desired amount of pine nuts and minced garlic over the tomatoes. Try to spread out the garlic evenly and not create big clumps of it on the log (or you'll blow out your taste buds with fresh garlic burn!). Drizzle olive oil down the length of the log (be careful not to use too much). A small amount of the toppings are expected to fall off the log and mound around it; try sprinkling more toppings on the plate around the log as well for a more aesthetic presentation.
To make crostini, cut the baguette into thin to medium-thick slices (I cut the baguette on a diagonal to produce longer slices). Spread olive oil on both sides of each slice and grill both sides until toasted. You can grill them using a pan on a cook top, or a cookie sheet in a broiler oven, or rustico style out on a BBQ. The rustico method will produce nice grill marks on the bread (if you're into that kind of look). After the slices are grilled, take the garlic clove and rub it across the top of the bread slices. This will impart a mild garlic flavor on the crostini.
WI wine recommendation: any full-bodied white. We tried this recipe with Qupé's 2004 Roussanne (Bien Nacido Hillside Estate), a rich aromatic wine. Any chardonnay (especially an oaky one) would also be nice.